Tablescaping: Everything You Need To Know About The Popular Trend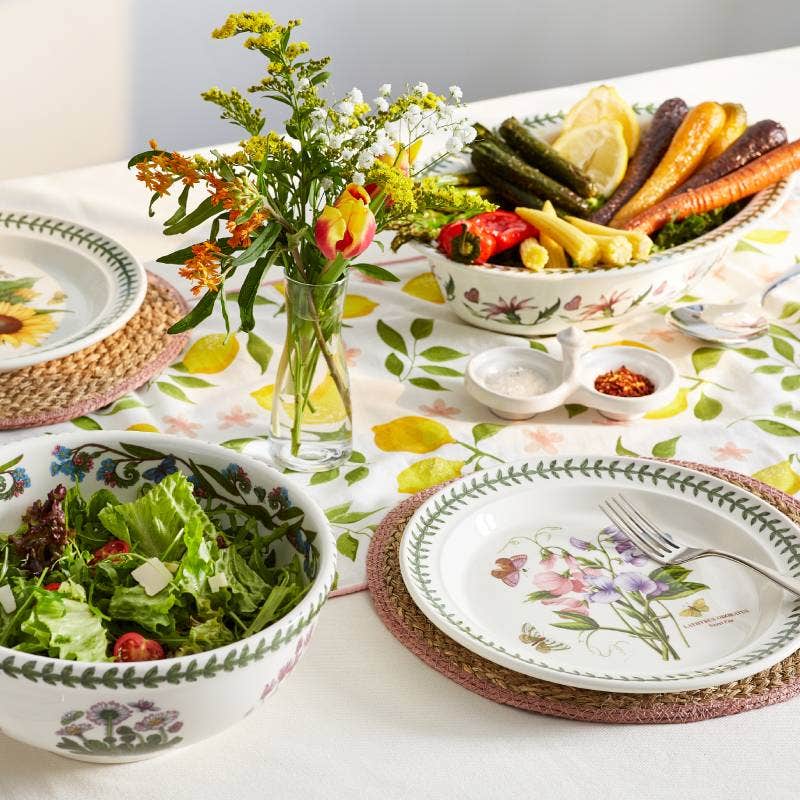 What is tablescaping?
Put simply, tablescaping is - quite literally - a feast for the eyes. From flowers to napkin folds, tablescaping refers to beautifully decorated dining tables - the trend allows the host to get creative with all things crockery, cutlery and candles. The up-and-coming phenomenon that's currently sweeping social media takes 'setting the table' to another level, typically featuring matching bowls and plates, as well as added centrepieces, such as flowers, vases and candle holders.
Usually dictated by a colour scheme and theme, the tablescaping trend is a must for insta-worthy birthday parties - one that'll leave your guests feeling inspired. Just as you would put thought and time into an outfit ensemble, coordinated napkins, crockery, cutlery and tablecloths are the decorative elements that help perfect a tip-top tablescape. Trust us, with the right tablescape, your table will be ripe and ready for the catwalk!
How was tablescaping born?
Wondering where it all began? Let's take a trip back in time. The act of sharing food over a dining table has always been part of our evolution and is one of the oldest markers of human behaviour, dating back to 300,000 years ago in the depths of Israel.
Though we may not be discussing all things philosophy like the Romans and Greeks, who notoriously laid their tables with hand-painted pottery and engraved goblets, the art of tablescaping has now evolved into a modern-day creative output. We've swapped ancient traditions for a more elevated, contemporary taste in table setting - all taken from the inspiration board that is Instagram and Pinterest. It's safe to say that elaborate and eye-catching birthday tablescapes are back on the scene!
Why is it so popular?
Since lockdown 2020, the art of tablescaping has shot up in popularity. Endless shots and snaps of heavily decorated tables and outlandish table themes have blessed our feeds for the last few years, with influencers and celebrities all hopping on the trend.
Ever since then, we've seen a whole host of stylish table settings, from artsy centrepieces to creative crockery and cutlery. In fact, our social media feeds have been monopolised by a staggering 1.7 million posts under the #tablescape hashtag on Instagram, so it's no surprise that it is now firmly a decorating staple.
How are we honouring the trend?
Here at Portmeirion, we are celebrating two very special birthdays - our Botanic Garden range and our founding mother, Susan William-Ellis whose birthday is in June. The beautiful range, which turns 50 this year, was created by Susan who intended for the collection to replicate a charming English garden and bring life to your average dining table.
50 years later, we've updated this eye-fluttering range with brand new items to help make your birthday tablescape one to remember. With limited edition pieces to honour this jolly anniversary - as well as the iconic, longstanding products that continue to stand the test of time - the Botanic Garden collection is still a wonderful option for an unforgettable birthday party, even 50 years on.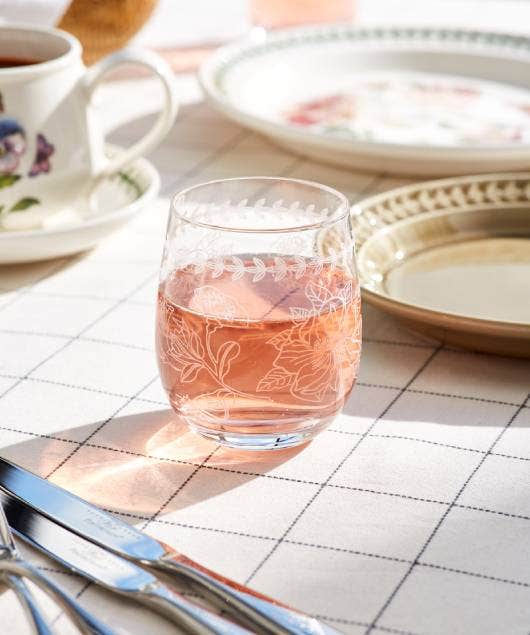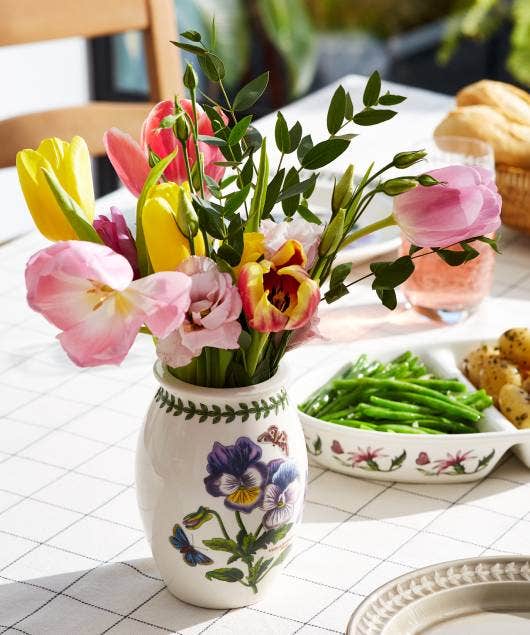 How can you create your own birthday tablescape?
Want to create the perfect birthday tablescape but unsure where to begin? Don't worry, we've got you. To help you get started, we've created four top tips on how to perfect the best birthday tablescape…
1. The Host
There's one thing all birthday parties have in common - and that's a host.
> If you're hosting your own party, then you need to think carefully about what atmosphere you want to create. From the event theme to the selection of food, if you follow your own tastes, your tablescape will be a piece of (birthday) cake!
> If you're hosting on behalf of someone else, it's time to take yourself out of the equation and plan from the lens of the guest of honour. What are their favourite colours and patterns? You need to think about what's relatable to them - pardon the pun.
2. The Theme
Do you daydream about the perfect birthday party? Time to make your themes come true and settle on all things colour and coordination!
> Whether you start by choosing your theme or your colour palette, it's important to pair the two together - a colour theme rather than a colour scheme, if you will…
> For example, if you love lush greens and natural tones, then a botanical birthday theme is a stunning option to go for. Start with plant-themed crockery, such as our beautiful Botanic Garden tableware range, and incorporate leafy decor, green napkins, flowers and floral scents into your tablescape.
3. Table Size
Before you begin dressing the table, you'll need to choose the right table size. After all - you can't tablescape without a table!
> To pick the perfect size, it's important to have an idea of how many people will be seated around it
> Generally, rectangular tables are best for larger groups of people - they also naturally offer the birthday guest their time to shine with a seat of honour at the head of the table.
> However, if you want to encourage a more sociable feel, round tables are the better choice for an interactive birthday party - as everyone can see each other's smiles and have conversations more easily as a group.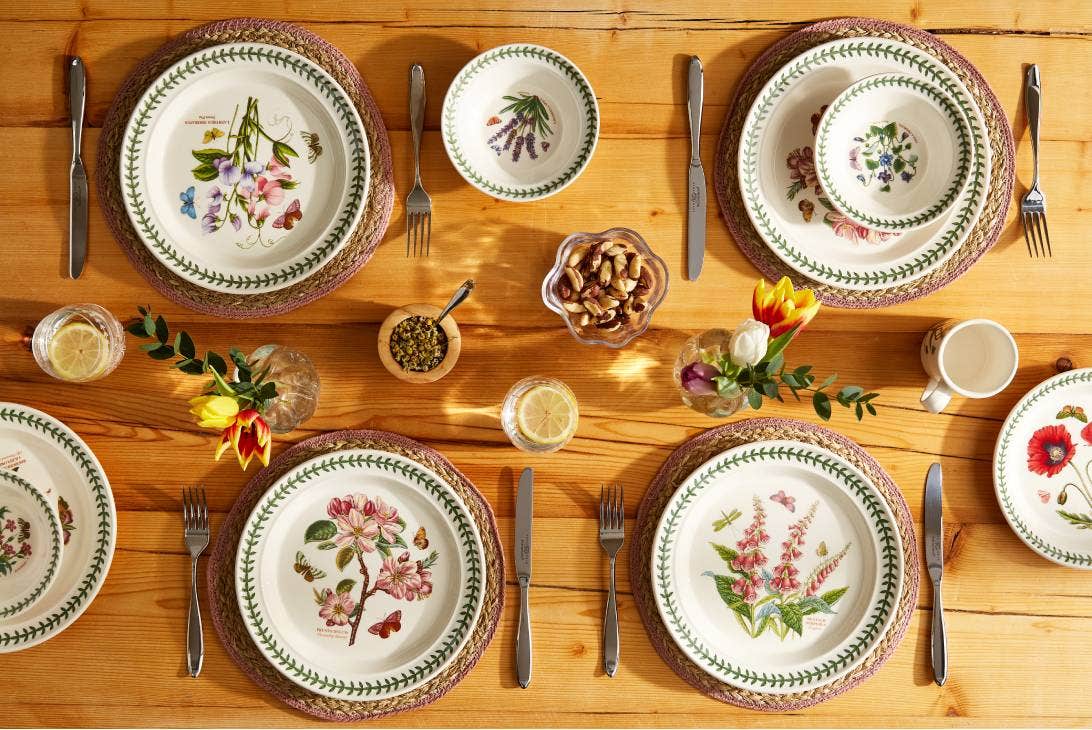 4. Setting The Table
A table is like a blank canvas - one that's begging for a splash of artistic flair. When it comes to setting the table for a birthday, there's only one place to start. That's right - we're talking tablecloths.
> Make sure that your tablecloth fits in nicely with your decor. If you've gone for a bold and colourful theme, we suggest opting for a neutral tablecloth to avoid overcomplicating your colour palette.
> Next, pick your placemats. Whether you go for round or rectangle, we suggest you try and vary your table shape from your placemat shape. So, if you've gone for a square table, go for contrasting round placemats.
> Now for name cards! Plan ahead and set out your seating plan and place name cards for your guests. Not only will this add a personal touch, but it'll also avoid any seating arrangement arguments…
> Time for tableware. Just like your birthday cake, we recommend tackling your tableware in tiers: begin with your placemat, then place the dinner plate on top and, lastly, finish with a dessert plate. Get creative and take the opportunity to have fun with your crockery and cutlery choice!
> Stick a fork in firmly, for your table setting is almost done! Depending on what treats you are having, it's essential to have a pastry fork on hand at every birthday party. Enjoy delicious birthday cake in style with the right tools for tucking in.
Get ready to create your tablescape
Dying to get decorating for your next birthday party? Whether you're hosting your own or celebrating someone else, browse our beautiful Botanic Garden collection and take on your first tablescape, today.